China motorcycle tours
Our Yunnan motorcycle tour is hands down, one of the most amazing adventure motorcycle tours you will ever experience.
Chiang Mai, Thailand - Tibet border, China (4,500 km - all tarmac road) - 13 days - USD$ 5,295  (All inclusive).
After scouting China, we were the first offering China motorcycle tours.
We have ridden this many many times and it never gets dull. After riding hundreds of thousands of km's throughout Asia, this china motorcycle tour is hands down the best overall riding experience you will find in the region.
Why? - Not only do you daily have fantastic Himalayan roads with mountain passes, riding  up around 4,000 meters. At the end of every day, you have  huge, sophisticated Chinese cities filled with ancient history,  quality food and nostalgia. It's an unbeatable formula for the best motorcycle riding experience you can possibly have!
Having ridden this area extensively, we've managed to put this  4,500km riding tour together into a 13 day programme, designed for people who like to ride great roads.
Thailand to China motorcycle tours
We've keep this China motorbike tour under 2 weeks and still include Tiger Leaping Gorge, Shangri-La & the Tibet border. This MotoAsia tour starts in Chiang Mai, briefly passes through Laos & then enters China, looping back to Chiang Mai, Thailand.
We can offer a China motorbike tours into Sichuan/Shezuan province too. Click here to see the 19 day Szechuan/ Yunnan loop.
Also check out our new Tibet motorcycle tour to Everest Base Camp that starts in Lhasa, Tibet in the following link: Click here for Everest Base Camp Motorcycle Tour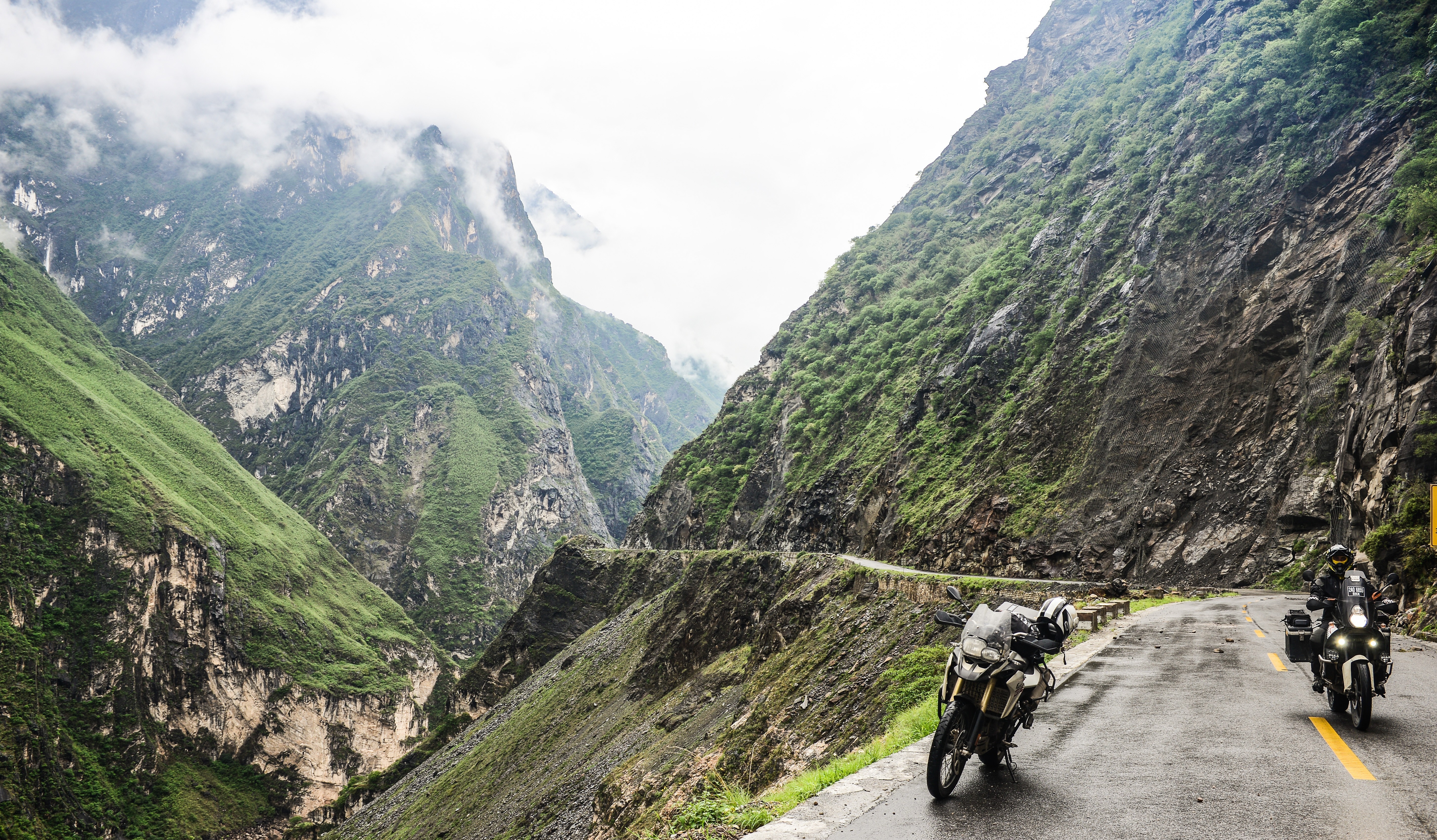 Book Now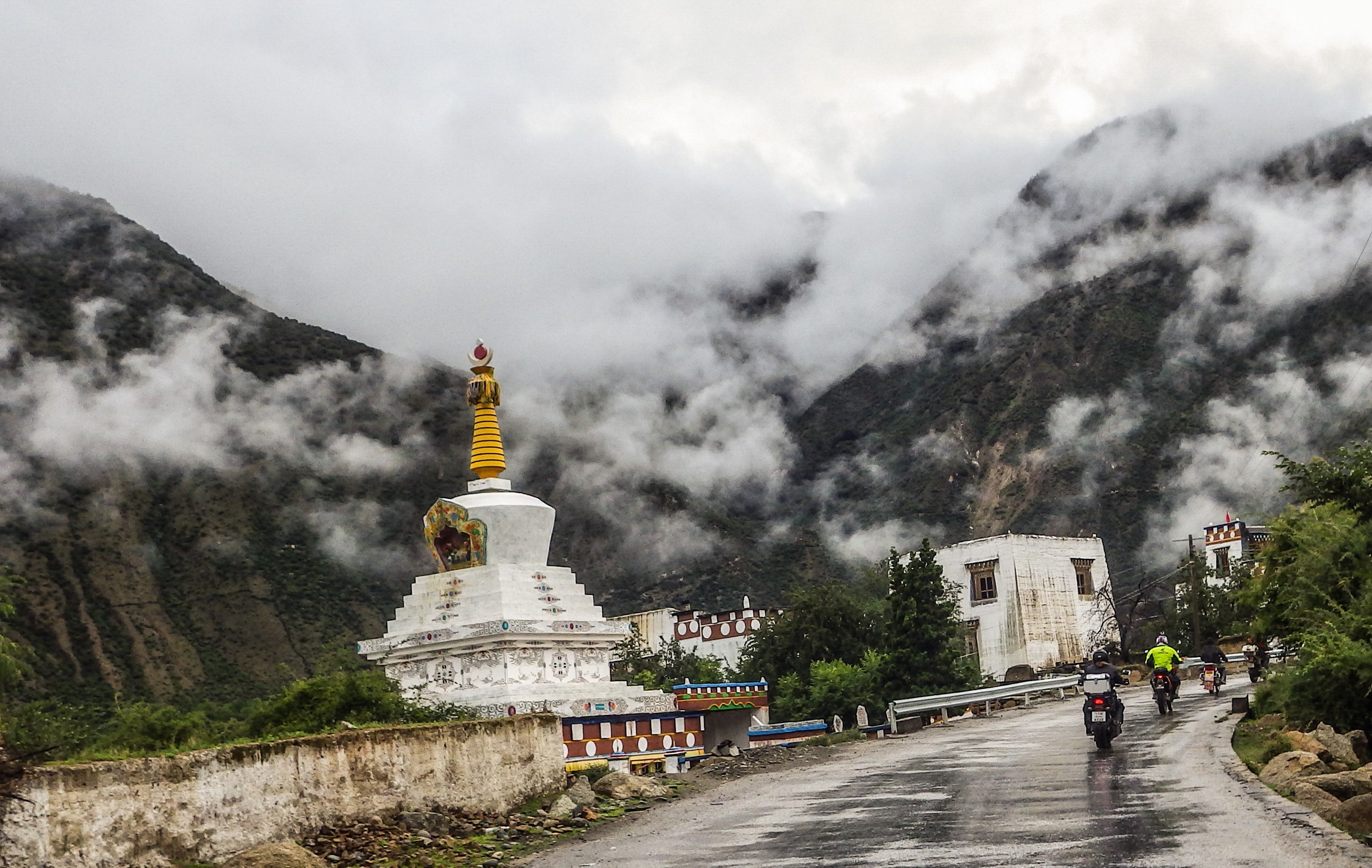 Book Now
Itinerary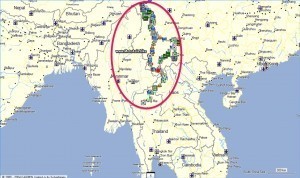 The best China motorcycle tour loop you can do.
Day 1: Chiang Mai, Thailand - Luang Nam Tha, Laos - 570km
Fast roads to
Chiang Khong
, Thailand (the border with Laos). We will then complete border formalities and cross into Laos. The road in Laos eastwards towards Luang Nam Tha is beautiful.
Day 2: Luang Nam Tha, Laos –Mengla - 120km
A quick ride to the Laos/ China border crossing, we will then cross into China & head for Mengla and do bike inspections and licenses.

Day 3: Mengla to Kunming - 650KM
For the die hard rider's, this day is for you. Fast flowing roads with excellent surface and great scenery.  We can easily cover a lot of distance in this terrain.

Day 4: Kunming, China - Lijiang, China - 480km
One huge Chinese city to another & now creeping into the Himalayian mountains. Lijiang's old city  (Baisha old town dates back to 650 AD) is filled with history & the Naxi ethnic people. Superb food choices in Lijiang's old town.

Day 5: Lijiang, China - Shangri-La, China -280km
This is a riding day, you will never forget, gauranteed. We will ride through Tiger-Leaping-Gorge,  one of the deepest and most spectacular river canyons in the world. It is an experience that you can describe, most people stay in second gear with their mouth's wide open.
It doesn't end there.  From TLG, we will enter the Tibetan ethinic area with a complete change in culture & scenery. It's a really special ride all the way to the infamous city of Shangri-La, with its Tibetan culture.

Day 6: Rest day Shangri-La, China
A lot of riding so far, perefect time to have a rest in a special town. Plenty to see here including one of the best Tibetan Monateries.

Day 7: Shangri-La, China - Deqen, China (Tibetan border) - 270km to CIzhong Village
Curvey, Himalayian mountain roads to the Tibet border with China. Here, we will see the highly sacred, Tibetan,  Kawagarbo mountain, elavation 6,740 meters & its NEVER been climbed. We ride down sream the Mekong to CIzhong Village.

Day 8: Cizhong - Shaxi, China - 375km
Headed south now on different roads, following the 3 parallel river valleys through Yunan province. The ancient town of Shaxi is a protected & preserved beauty, one of the very few left in China, we're very lucky to have this on our route.

Day 9: Shaxi, China - Dali, China - 225km
We're now on the old "Tea Horse Caravan Trail" in Yunan province. After some big days, an easy days ride to Dali established in 937 AD,

Day 10: Dali, China - Shuangjiang, China - 400km
Beautiful river valley roads will take us south to the famous tea platations at Shuangjiang.

Day 11: Shuangjiang - Mengla, China - 425km
This will be our last ful riding day in China taking us south west in the Xishuangbanna prefecture to the town of Mengla, ready for our exit from China the next day.

Day 12: Mengla, China - Chiang Khong, Thailand - 370km
3 Asian countries in a day!  An early start and we'll clear out of China, into Laos, out of Laos & into Thailand. Lots of paperwork but it can be done quitev easily. We will spend the night on the Mekong River in Chiang Khing, Thailand.

Day 13: Chiang Khong, Thailand - Chiang Mai, Thailand - 270km
We will take a different route back to Chiang Mai to show you some more of Thailand's excellent roads

End of tour
Immigration formalities:
Thailand: Visa on arrival (G7 30 days/ other nationals 14 days)
Laos:  Visa on arrival
China:  Visa needed in advance from Chinese consulate
What is included
– All hotels
– All meals
– Motorcycle
– Fuel
– Support vehicle for China
– Chinese guide for China
– 3rd party liability insurance for Thailand/ China
– Permits & Chinese driving license
– Customs border clearence fees