Myanmar motorcycle tours
Myanmar had been hidden forever, a Myanmar motorcycle tour is now possible.
9 Days from USD$ 3,195 (all inclusive).
On one of our Myanmar motorcycle tours you can ride to the ancient Pagodas of Bagan, ride into the new capital Naypyidaw & experience the untouched culture.

From out of the shadows, now possible, don't miss this new experience on a motorcycle tour through Myanmar. Ride through the unique 2,000 Pagodas of ancient Bagan. See local smiles through cheeks smeared with thanaka (sunblock made from ground tree bark) which will have you mesmerized.
Thailand to Myanmar adventure motorbike tours
Our Myanmar motorbike tours will take you to the best places in the country for sure. We start the adventure tour in Thailand and enter Myanmar at one of the international border crossings, returning by motorcycle to Thailand at the end of this Myanmar motorcycle tour.
Also -Check out our new 14 day Myanmar Motorcycle tour, "click here".
Here's a video of us entering Myanmar: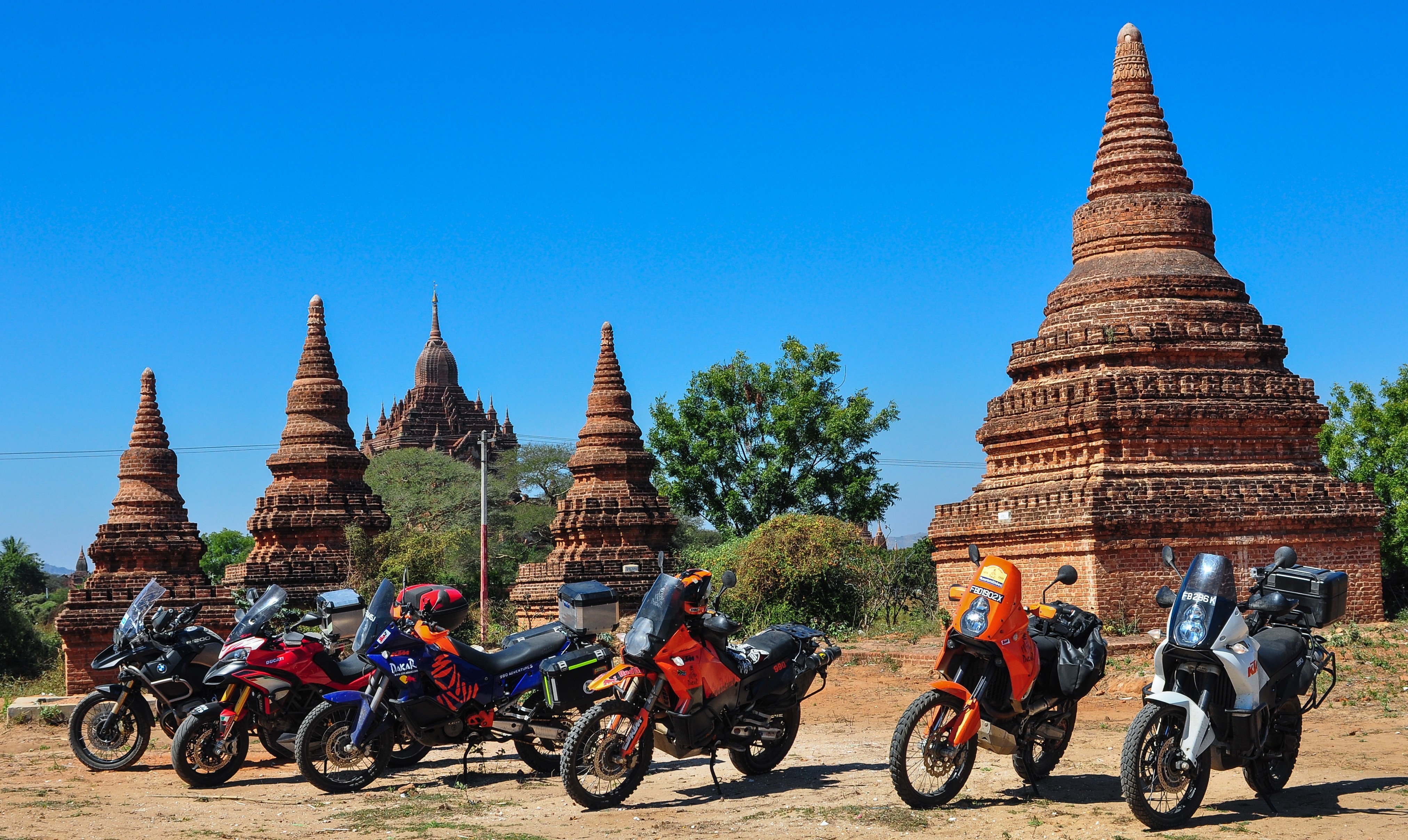 Book Now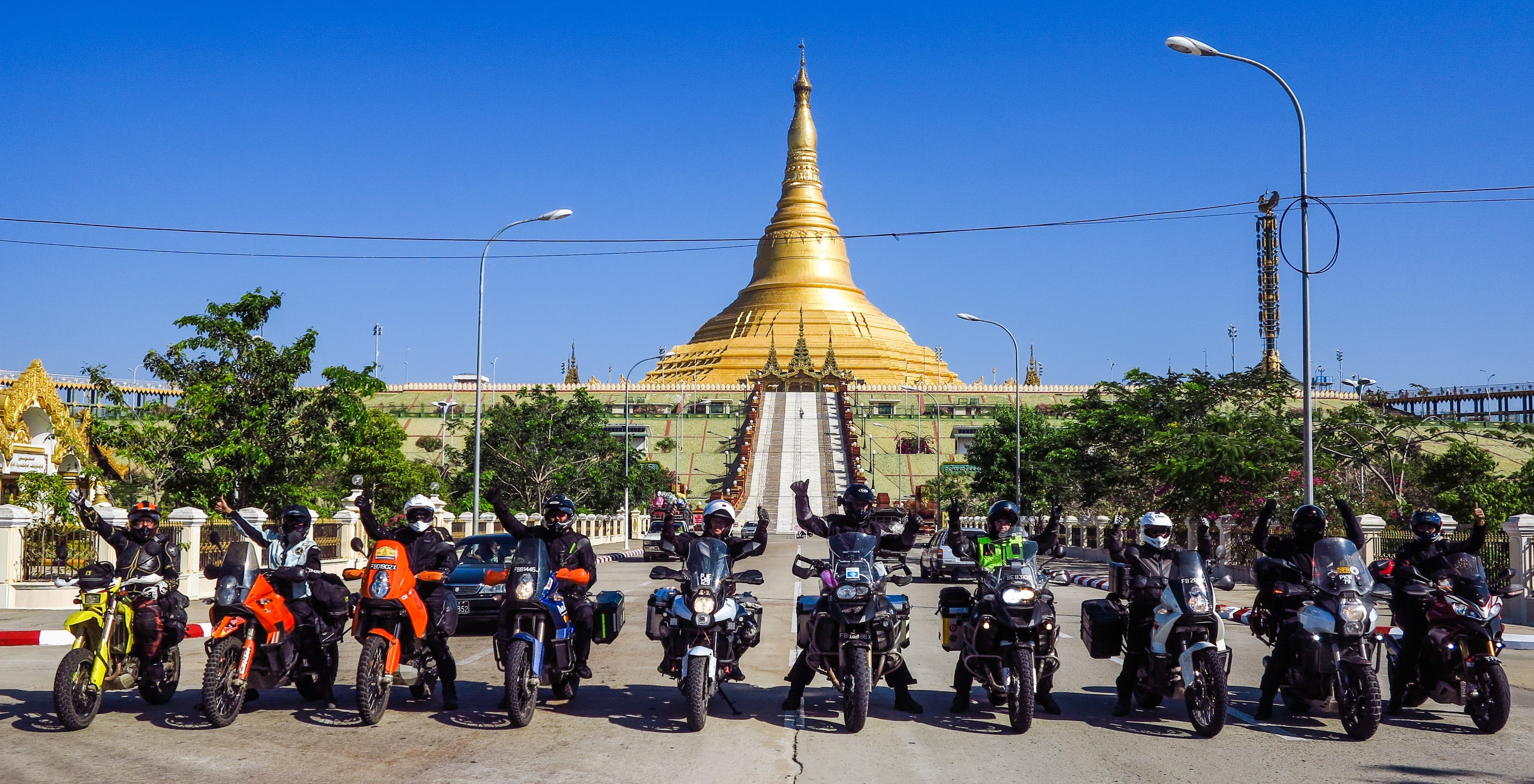 Book Now
Itinerary
Day 1: Chiang Mai - Mae Sot (Myanmar border) (360 km)

A beautiful ride along the

Myanmar

border passing several Myanmar refugee resettlement camps. We will stage for the night in Mae Sot ready for crossing into Myanmar the next day

Day 2: Mae Sot – Kyaiktiyo (Golden Rock) (272 km)

Early start to cross the border at Mae Sot and drive via Kawkareik, Hpa-An and Thaton to Kyaiktiyo. Overnight at the Sane Le Tin Hotel or similar Day 3: Kyaikhtiyo – Golden Rock - Naypyidaw (440 km) Early morning you will leave the hotel to visit The Golden Rock. This Rock is perched atop a cliff and is one of the most sacred sites in Myanmar. The great boulder precariously balances on the edge of a cliff and is topped by a small stupa. An endless stream of pilgrims comes to admire the sight and adds squares of gold leaves to its surface. With its great weight balanced so precariously on the cliff edge, the Golden Rock is a truly an extraordinary natural wonder. It is no surprise that it is regarded with such sacred awe. According to legend, it is kept in place by a single hair of the Buddha. From Kyaiktiyo you will drive via Taungoo to Naypyidaw. Overnight at the Aureum Hotel & Resort or similar


Day 4: Naypyidaw – Bagan (334 km)

Naypyidaw is the capital city of Myanmar. On 6th November 2005, the
administrative capital of Myanmar was officially moved to a greenfield 3.2 km west of Pyinmana and approximately 320 km north of Yangon, the previous capital. The capital's official name was announced on 27th March 2006,Myanmar Armed Forces Day. Much of this planned city is still under construction. As of 2009, the population was 925,000 people, which makes it Myanmar's third largest city, behind Yangon and Mandalay. The city is one of the world's 10 fastest growing cities. You drive to the Uppatasanti Pagoda ("Peace Pagoda") – a prominent landmark in Naypyidaw. The pagoda houses a Buddha tooth relic from China. It's an almost same-sized replica of the Shwedagon Pagoda in Yangon and stands 99 meters tall. The pagoda is only 30 cm shorter than the Shwedagon Pagoda. You will then drive on from Naypyidaw to Bagan. Enjoy the temples at sunset at Bagan. Overnight at the Bagan Thande Hotel in or similar.


Day 5: Bagan

Day at leisure or drive around the area.

Optional bookable at spot is a unique adventure of a breath-taking ride in a hotair-balloon over the ancient temples and pagodas of Bagan during sunrise! Depending on the weather condition the flight usually lasts around 45 to 60 minutes. The exclusive price is USD 285,- per person! We strongly recommend an early booking as capacities are limited. All balloons were produced by Cameron Balloons Ltd., one of the world's largest manufacturers of hot-air-balloons. The operation crew consists of qualified pilots and technicians who are all registered in Great Britain. Or you may drive around the greatest wonder of Myanmar; this ancient deserted city alongside the Irrawaddy River is home to over 2000 temples and pagodas covering an area of around 40 square km. This world-heritage site is one Asia's most important and remarkable archaeological sites, and represents the spiritual heritage of ancient Burma. You will obviously not be able to visit every Pagoda and Temple of this vast area, so you will have to decide which ones you want to visit. Here are some of the most outstanding sights:

Dhammayangyi: built in the 12th century by Kalagya Min (the king killed by the Indians), this pagoda resembles a pyramid from the side. Impressive mortar-less brickwork – the king ordered that the bricks fit together so tightly as not to admit even a pin to pass between them. Otherwise (it is said) he cut off the workers' hands.

Ananda Pagoda: one of the finest, largest, best preserved and most revered of the Bagan temples fully restored after suffering damage in the 1975 earthquake. Built around 1105 by King Kyanzittha, this perfectly proportioned temple heralds the stylistic end of the Early Bagan period and the beginning of the Middle period. There are 4 large wooden Buddha figures, and 2 of them appear to change their expression the closer you get.

Shwe Zi gon Pagoda: started by Anawratha, but not completed until the reign of Kyanzittha (1084-1113). The stupa's graceful bell shape became the prototype for Myanmar's pagodas. Supposedly the Shwezigon was built to enshrine one of the four replicas of the Buddha tooth from Kandy, Sri Lanka, and to mark the northern edge of the city. The other three tooth replicas went to three other stupas marking the east, south and west of the city.
Overnight at the Bagan Thande Hotel in or similar.


Day 6: Bagan– Pyay (352 km)

You will proceed by bike from Bagan to Pyay.
Pyay (also known as Prome) is a town in the Bago Region and is located on the Irrawaddy River, 260 km northwest of Yangon. The British Irrawaddy Flotilla Company established the current town in the late 19th century on the Irrawaddy River as a transshipment point for cargo between Upper and Lower Burma. Overnight at the Mingalar Garden Resort or similar


Day 7: Pyay – Bago (ca. 314 Km)

You will drive from Pyay to Bago, which was reputedly founded in 573 AD by two Mon princes from Thaton. During the late Mon dynastic period it became the center of the Mon kingdom. The city is also famous for its huge reclining Buddha, which measures 55 meter in length and was originally built in 994 AD.

Sights in Bago:
Hintha Gon Paya: a shrine, built by U Khanti, who already built Mandalay Hill. It is supposed to be the point rising from the sea, when the hintha (mythological bird) landed here. It offers a brilliant view over Bago and the region.

Shwethalyaung Buddha: a huge reclining Buddha. It is reported to be one of the most lifelike of all reclining Buddhas. Originally it was built in 994 AD of brick and stucco by the Mon king Migadepa II.

Mahazedi Paya: Originally constructed in 1560 AD by King Bayinnaung, it was destroyed during the sack of Bago in 1757, it wasn't rebuilt and the earthquake in 1930 levelled it nearly out. The current reconstruction was only completed in 1982. There is a nice surrounding view from the top. The duplicate tooth of the Buddha and emerald bowl of King Kandy from Sri Lanka was once enshrined here and is now in the Kaunghmudaw Paya in Sagaing.

Shwemawdaw Paya: is said to be over 1.000 years old, originally built by the
Mon. It is 114 meters high and can be seen even from far away. The pagoda has a long history of destruction due to earthquakes and reconstruction; it finally reached today's height in 1954, after a leveling of the stupa in a massive earthquake in 1930. The mouth of the two guardian beasts at the west entrance contains two Mahayana Bodhisattvas. Overnight at the Bago Star Hotel or similar


Day 8: Bago – Mawlamyaing (248 km)

From Bago you will drive on to Mawlamyang – an attractive, leafy, tropical town with a ridge of stupa-capped hills on one side and the sea on the other.
Mawlamyine served as capital of British Burma from 1827 to 1852. Visit some of the major pagodas, including Mahamuni Paya and Kyaikthanlan Paya, located on a hill with panoramic views overlooking the Thanlwin River. Then head to Queen Sein Done's Monastery, the highlight of Mawlamyaing. Located on a hill with panoramic views overlooking the Thanlwin River, visit View Point, an especially beautiful spot for sunset or sunrise. Enjoy the sunset at the charming promenade. Overnight at the Strand or similar.


Day 9: Mawlamyaing – Mae Sot (140 km)

From Mawlamyang you will drive back to Mae Sot- across the Dawna Mountain Range.


Day 10: Mae Sot - Chiang Mai (360 km)

We will take a different route back to Chiang Mai on some fantastic, sweeping roads


Inclusions

– All hotels & food
– Motorcycle
– Fuel
– Local English speaking guide
– Accompanying vehicle with driver
– Accommodation and expenses for local guide and local driver
– Official Guide by the government with accommodation and expenses
– All official papers
– All expenses for the permissions and money for each police post

Exclusions

– Visa for Myanmar
– tips and personal expenses
– insurance
– optional excursions

Also -Check out our new 14 day Myanmar Motorcycle tour, click here