Mongolia motorcycle tours
Our MotoAsia Mongolia motorcycle tour we scouted last year was worth the effort.
20 days - USD$ 7,995 (all inclusive + motorcycle airfreight back) (6,000 km - mostly sealed roads).
After lots of consideration, we think the best way, because of people's time constraints, is to do this motorcycling adventure tour "one way" to Mongolia & then fly the motorcycles back to Bangkok, Thailand.
Chiang Mai, Thailand to Mongolia adventure tour
On our Mongolia motorcycling tour, we leave from Chiang Mai, Thailand, ride into Laos & into China, through Inner Mongolia to the Mongolia border. The culture is constantly changing on this motorcycle tour, from lush green jungles right through to the barren Gobi desert as we hit North China.
Once we depart Thailand, we spend one night in Laos & then 14 days in China riding along the Himalayan passes and valley's through the Chinese provinces of Yunnan, Sichuan, Gansu, Ningxia & Inner Mongolia.
We then spend 5 days in Mongolia in ger tent camps & Ulaanbaatar, the capital of Mongolia before the motorcycles are air freighted back to Thailand.
Mongolia, with its nomadic lifestyle, is one of the most untouched, fascinating civilizations on earth. With temperatures plummeting to -35C in winter time, its only accessible for a few summer months each year, but is easily reachable by motorcycle from South East Asia on one of our Mongolia motorcycle tours.
If you are looking to transit China on your motorcycle, it makes sense to join one of our Mongolia motorcycle adventure tour groups which will lower your cost.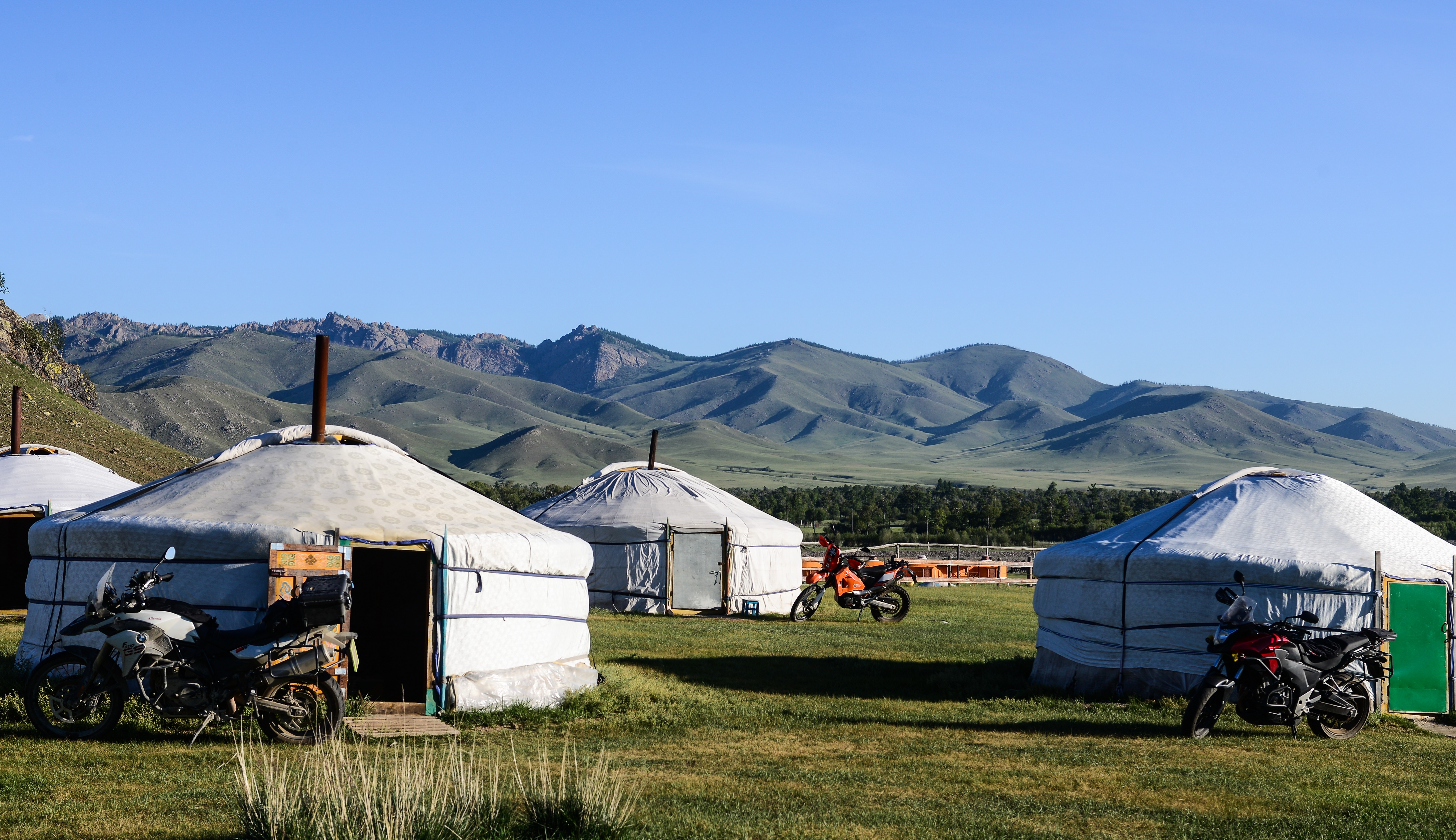 Book Now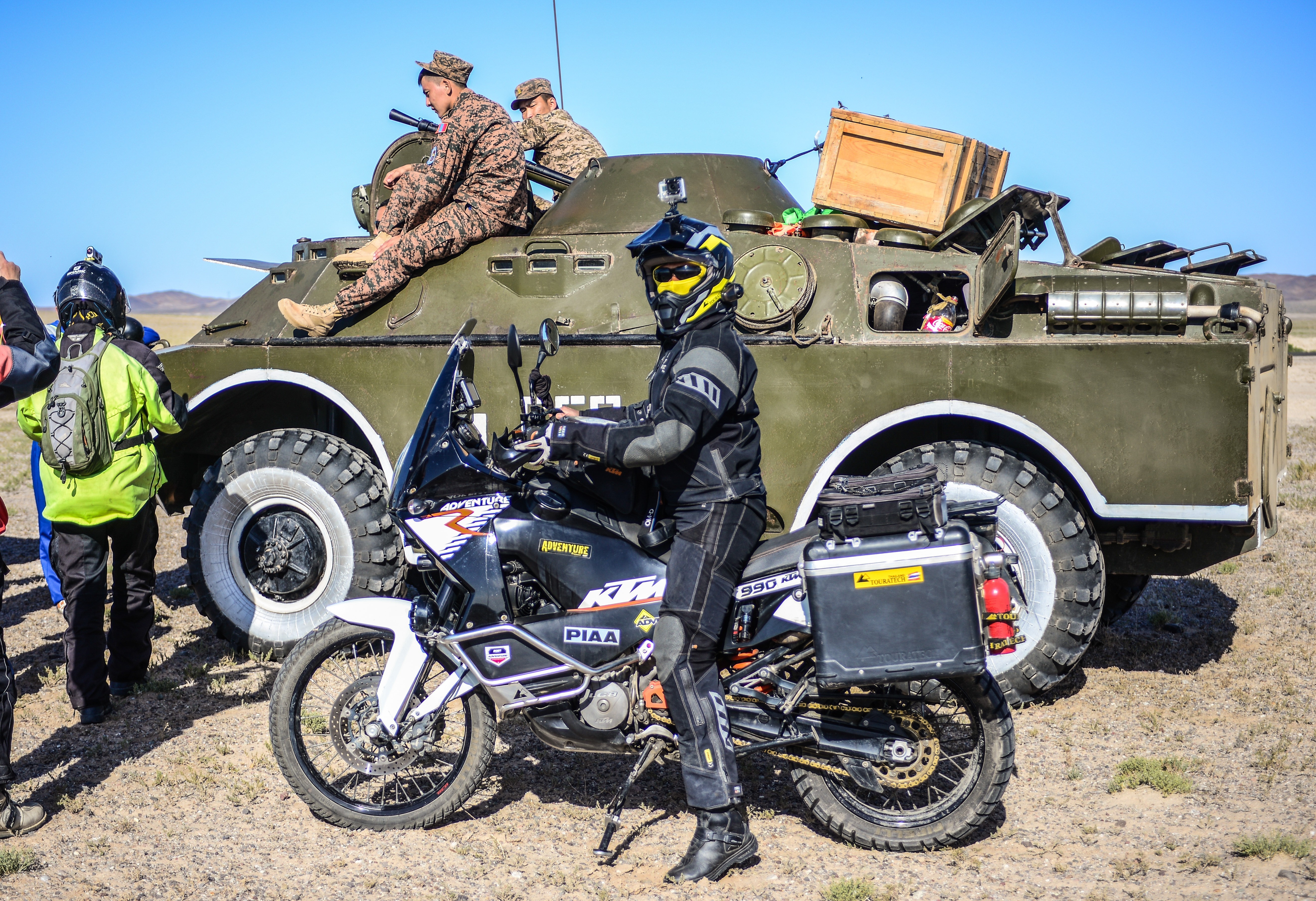 Book Now
Itinerary
Day 1 Chiang Mai, Thailand / Luang Nam Tha, Laos
We will cross Mekong River & enter Laos riding the curvy road to LNT

Day 2 China Mohan-Jing Hong (180KM)
Arrival, met by guide, clear customs, drive to Mengla. Getting licenses and push to Jing Hong.

Day 3 Jing Hong - Kunming(550KM)
Ride to Kunming on highway.

Day 4 Kunming to Zhaotong (366KM )
Ride to Zhaotong,

Day 5 Zhaotong to Leshan (402KM on)
Ride to Leshan.

Day 6 Leshan to Chengdu (172Km on)
Visit Leshan Giant Buddha, ride to Chengdu

Day 7 Chengdu Rest Day
Visit the Grant Panda Breeding Center in Chengdu and rest.

Days 8-9 Chendgu Hanzhong-Xi'an (920KM)
Ride to Xi'an in two days, passing Hanzhong and Guangyuan.

Day 10 Xi'an Rest Day
Visit Xi'an Terra Cotta Army site, Muslim quarter.

Day 11 Xi'an to PingYao (565KM on)
Ride to Pingyao old city.

Day 12 Pingyao
Visit the world heritage old city of Pingyao.Pingyao ancient city, one of the classic examples of northern style ancient city in China.

Day 13 Pingyao to Datong xian ( 391KM )
We drive from Pingyao old city to Datong.

Day 14 Datong to Erenhot (455KM)
Ride to Ulanchabu., territory of inner Mongolia, reach Erenhot in late afternoon.

Day 15 Erenhot to Mongolia
Clear the customs and exit China to Mongolia

Day 16 - 20 Mongolia
A priceless opportunity to see how a traditional, untouched, nomadic race lives.
Our accommodation we be well set up Mongolian ger/ tent camps with good quality food and long-established cultures on tap.
We will visit the largest Genghis Khan statue in the world. Also in the Gobi Desert, we will visit the World Energy Center.
You will need to arrange a return flight home from Ulaanbaatar, Mongolia.

Immigration formalities:
Thailand: Visa on arrival (G7 30 days / other nationals 14 days)
Laos: Visa on arrival
China: Visa needed in advance from Chinese consulate
Mongolia: Visa on arrival (except NZ)
What is included
– All hotels
– All meals
– Motorcycle
– Fuel
– Support vehicle for China
– Chinese guide for China
– 3rd party liability insurance for Thailand/ China
– Permits & Chinese driving license
– Customs border clearence fees
Motorcycle airfreight back to Bangkok:
Cost is estimated to be USD$ 1,000 – USD$ 1,400
(The reason we structure the pricing this way is because we often have riders in the group that are continuing north towards Siberia, Russia or westwards to Europe)