Borneo motorcycle tours
Borneo off road motorcycle tours are very special, we are the only tour company offering this tours.
"Virgin Rain Forest Extraviganza" (dirt trails) - 7 days - USD$ 2,695 (all inclusive).
On this Borneo motorbike tour, we give you an opportunity to ride into Borneo's Virgin Rain Forest.
We offer two Borneo motorcycle tours, the first is a shorter loop inside Sarawak, Malaysia. The second longer Borneo adventure motorcycle tour enters Indonesia (I suppose we could call it an Indonesia motorcycle tour too) and loops back into Sarawak, Malaysia.
Malaysia & Indonesia motorcycle tours
On both Borneo motorcycling tours we will stay at the luxury Royal Mulu Resort that is only accessible by airplane or boat, the motorcycles go in the boat, down the river to get there. There's not much virgin rain forest left in the world, can you think of a better way of seeing it than on a dirt bike?
This is a very special 7 day motorcycle tour that takes us along the Indonesian border in Borneo and into the virgin rain forest of Sarawak.
We enter an area where there are no trails. To link our loop, we have to load the bikes onto long boats to go down the Tutoh River, the only other way here is by plane - there are no roads to the outside world.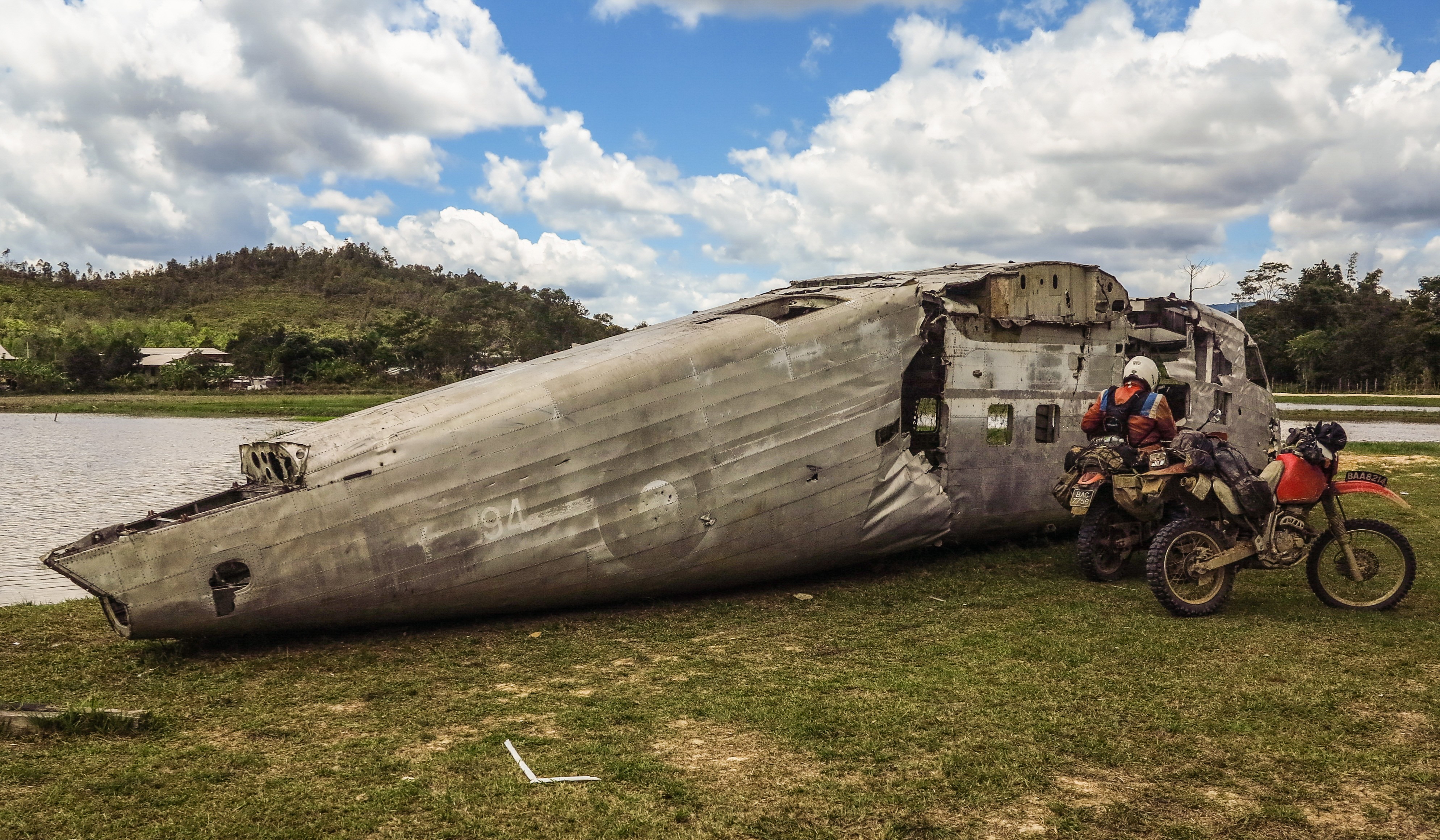 Book Now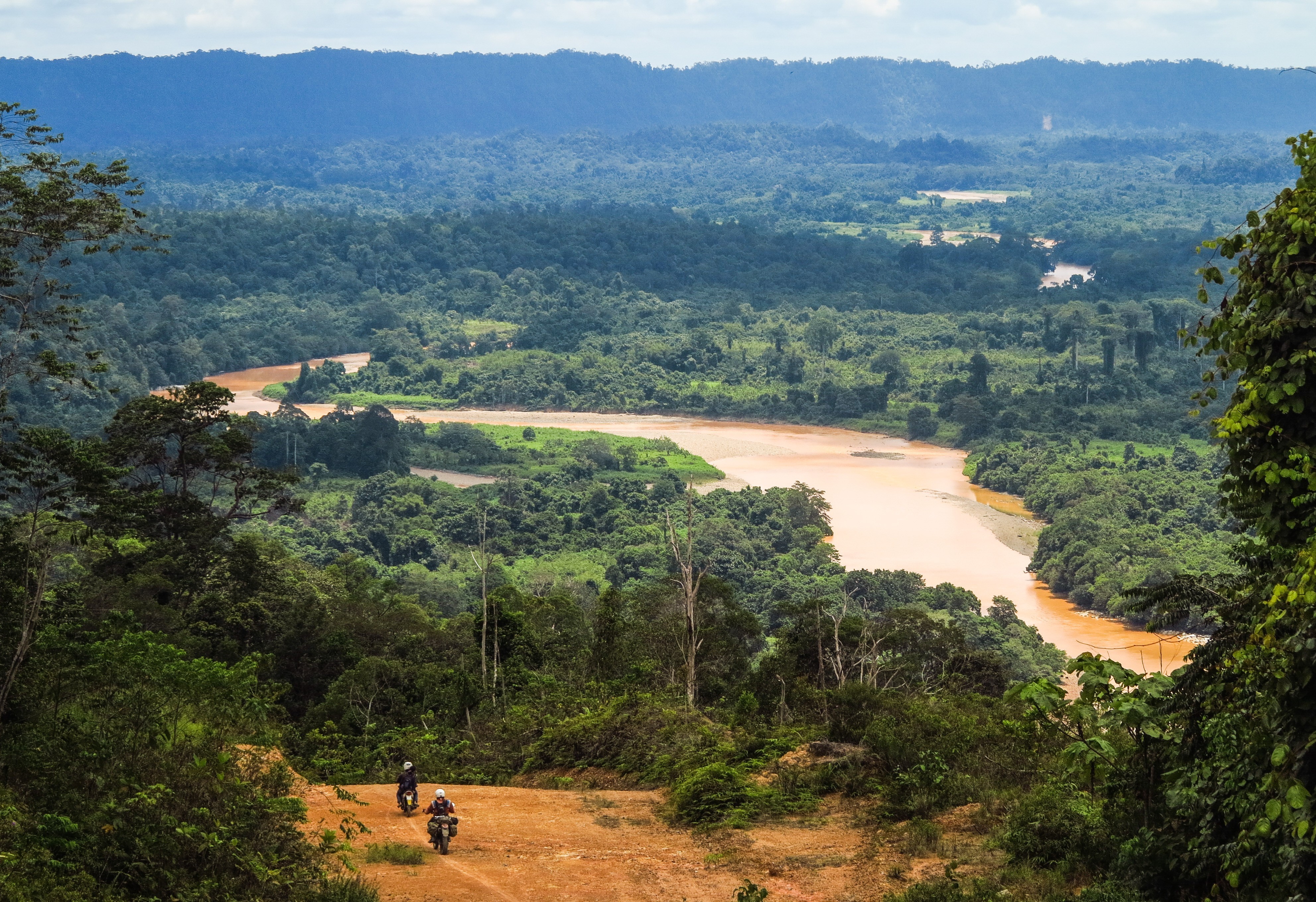 Book Now
Itinerary
Day 1: Merirap Hot Springs 220km
Lovely ride on logging trails to a resort with its own hot spring baths on the banks of the Batang Trusan River. Great local food here too.

Day 2: Merirap Hot Springs - Bario 200km
We will ride the new road along the Indonesian border, passed some historic grass airfields. We hit one difficult river crossing that's a bit of a challenge but manageable. Bario has a good guest house for the night.

Day 3: Bario - Long Tabaggan 200km
Weather permitting, we will stay in a traditional Long House for the night in a local village.

Day 4: Long Tabaggan - Long Bedian 150km
We can have a late start this day an easy day after a few hard one's. Long Bedian is a traditional logging town.

Day 5: Long Bedian - Royal Mulu Resort, Virgin Rain Forest 120km
The only way here is by plane or boat, I'm not joking!
We will ride some rarely used trails, with great views to the Tutah River, then load the bikes on boats to get to the luxurious Royal Mulu Resort.

With the bikes in the long boat, we will head downstream on the Tutoh River to pick up a trail which will lead us to the town of Marudi, the largest town in Baram District of Sarawak. Here they make some of the best home-made noodles in the world, serious.

Day 7: Marudi - Miri - Home 230km
Out of the rain forest region & back to civilization. We will have lunch in the huge, coastal town of Miri & head back home.

End of tour.
Immigration formalities:
Brunei: Visa on arrival
Malaysia: Visa on arrival