Nepal motorcycle tours
At MotoAsia, we offer an adventure Nepal motorcycle tour "one way" from Thailand to Nepal.
Chiang Mai, Thailand - Everest Base Camp, Tibet - Kathmandu, Nepal - 18 days - from USD$ 9,995 (All inclusive) + motorcycle air freight back to Thailand.
It could be called a Tibet motorcycle tour in a way, because the motorcycle tour spends considerable time in Tibet.
Mount Everest Base Camp & Tibet motorcycle adventure tour
This amazing Nepal motorcycle tour will take you to Mount Everest Base Camp and then onto Kathmandu, Nepal where the motorcycles can be flown back to Bangkok, Thailand. If you are on your own motorcycle you can continue westwards. This is a good way to transit/cross Tibet by motorcycle and lower your costs by joining one of our Tibet motorcycling tours.
Up until very recently this area was out of bounds to most people. It's still a very sensitive area and we are now privileged to be allowed to visit, especially on motorcycles.
After leaving Thailand, we will spend one day in Laos, then 5 days of riding north through Yunnan, China towards the Tibet border. From the Tibet border we ride westwards towards the beautiful ancient Buddhist city of Lhasa "the city of wonders" for a rest day.
After Lhasa we head westwards in Tibet towards the highest mountain in the world, Mount Everest. From Everest, we then head in Nepal to the capital Kathmandu, where the motorcycles will be air freighted back to Thailand.
This tour will also be of interest to those that need to transit Tibet into Nepal on an extended tour, our Nepal motorcycle tour is an excellent way of spreading the transit cost of riding a motorcycle through Tibet.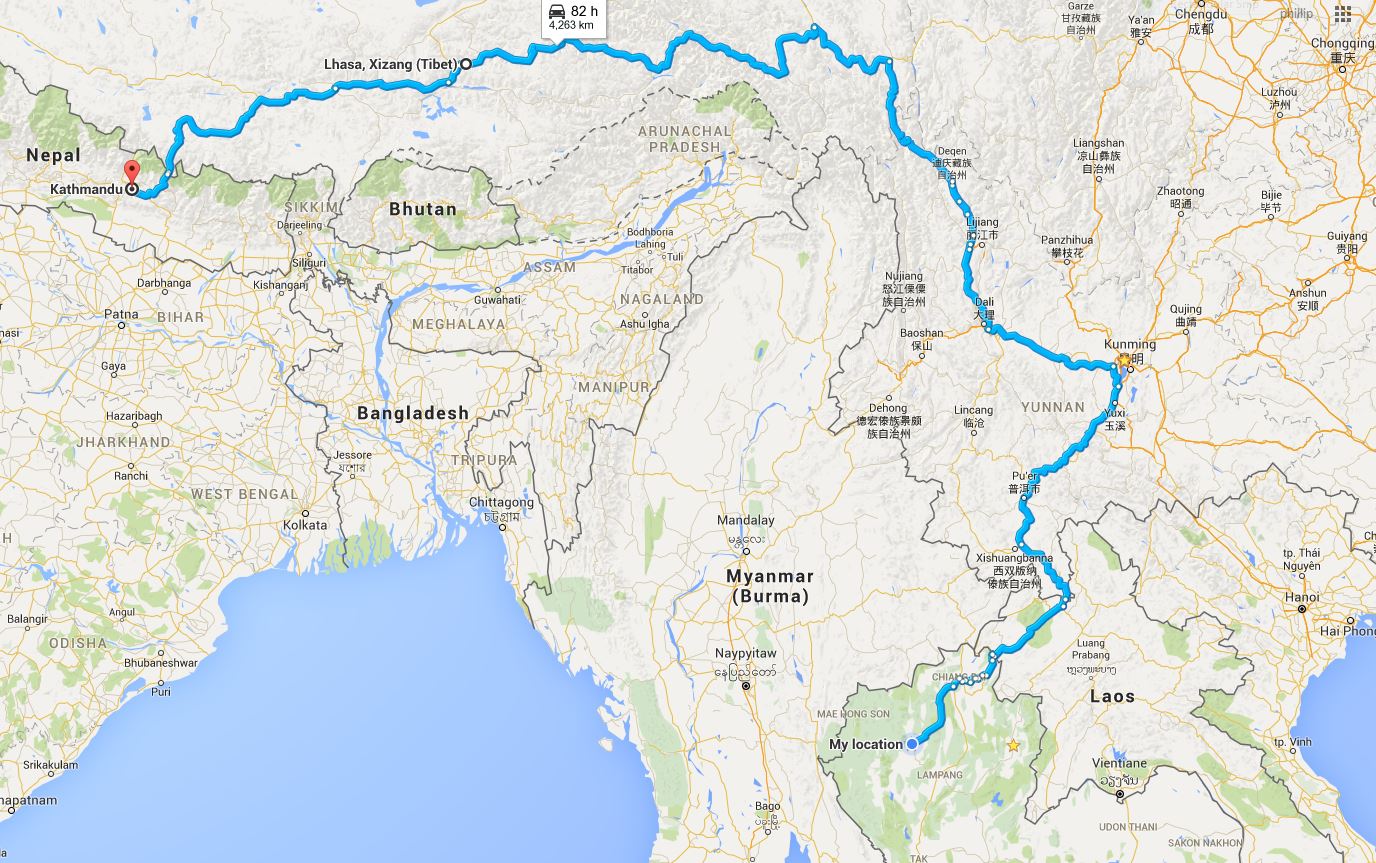 Book Now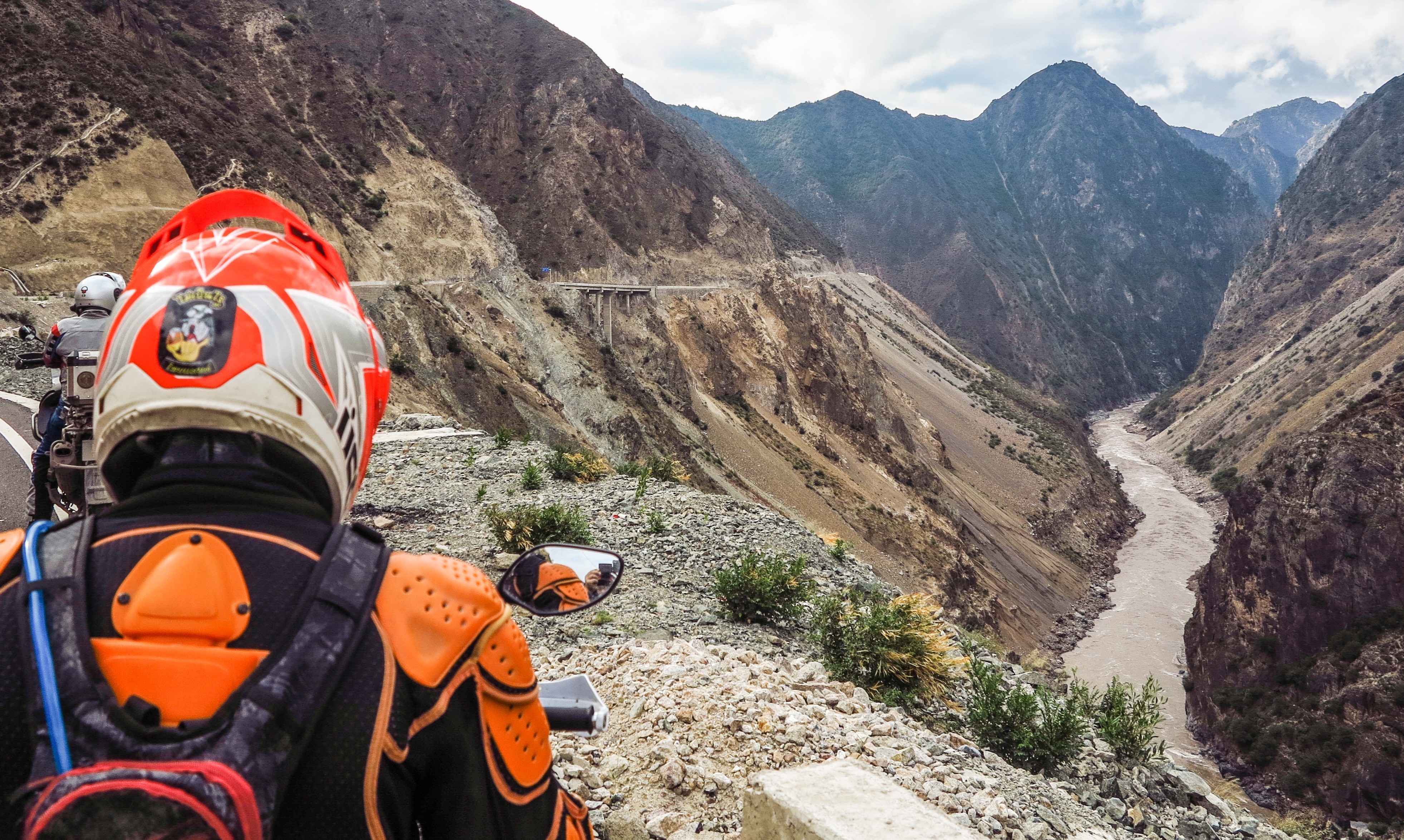 Book Now
Itinerary
Day 1 Chiang Mai, Thailand / Luang Nam Tha, Laos
We will cross Mekong River & enter Laos riding the curvy road to LNT

Day 2 Laos/China 110KM
Met by your guide at Mogan border in the afternoon, clear the customs and driveto Mengla County and do vehicles and drivers checks and licensing.
Ride 45K

Day 3 Mengla/Jinghong/Zhengyuan 406KM
We ride through xiao meng yang nature reserve to Zhenyuan, passing villages and tea plantations. Pu'er tea is originated from this region and teas are carried by horse caravans to Tibet and India.

Day 4 Zhenyuan/Lijiang (1900m) 471KM
After breakfast, we will start riding pass the mountain pass between Zhenyuan and Dali and descending to Dali Erhai lake where you will see local agriculture and villages. We ride out of the valley and start a long climb before we reach Lijiang. The mountain ride is another highlight of the day. We arrive in Lijiang in late afternoon. Lijaing is the UNESCO world heritage which attracts crowds of visitors all year around.

Day 5 Rest Day in Lijiang (2400m)
Day 6 Lijiang– Shangri_la (3300m)
We will leave Lijiang and ride to the third deepest Gorge in the world, Tiger Leaping Gorge. We will ride through the gorge and get to Haba Snow Mountain, a simple lunch at a family guesthouse we will continue to Shangri_la County or Gyelthang, is where the Tibetan and Chinese worlds meet. Until recently, it was the northernmost open point for foreign travelers in Yunnan. Zhongdian is now a modern city at the edge of the vast Tibetan plateau. (Ride 279 km)

Day 7 Shangri_la/Deqin Mt. Kawa Karpo
The drive to Deqen is simply the best way to view the great variety of landscape in the Great Rivers region. (175KM)

Day 8 Deqin /Yerkalo /Markam
Today's morning we will ride to Yekalo and visit the salt fields. Depart Yanjing in the afternoon and travel along the north of Mekong River valley into Tibet. (208KM)

Day 9 Markam/Basu
Today you will cross two high passes, one at around 4800 the other, Mt. Dongdala, at 5009m to Pomda. (360KM)

Day 10 Basu/Lulang
Ride to Pomi, at a lower altitude. (280KM)

Day 11 Lulang/Gandan/Lhasa
After the long challenging overland trip you will understand why Tibetans regard the journey to Lhasa as one of the most sacred of pilgrimages. (510KM)

Day 12-13 Lhasa Rest Day
You will explore the holy city of Lhasa.

Day 14 Lhasa - Gyangtse -Shigatse(3950m)
Full day picturesque ride to Gyangtse, visit and ride to Shigatse (Ride 261KM)

Day 15 Shigatse - Everest Base Camp (5100m)
Ride cross the Pang La we will reach Everest Base Camp. (335KM)

Day 16 Everest Base Camp – Zhangmu
Ride to TIngri and continue to Tibet/Nepal border.

Day 17 Exit to Nepal
Clear customs and exit to Kodari.

Day 17-18 Lhasa, Nepal
Immigration formalities:
Thailand: Visa on arrival (G7 30 days / other nationals 14 days)
Laos: Visa on arrival
China/ Tibet: Visa needed in advance from Chinese consulate
Nepal: Visa on arrival
What is included
– All hotels
– All meals
– Motorcycle
– Fuel
– Support vehicle for China/ Tibet
– Chinese guide for China/ Tibet
– 3rd party liability insurance for Thailand/ China/ Tibet
– Permits & Chinese driving license
– Customs border clearance fees
Motorcycle airfreight back to Bangkok:
Cost is estimated to be USD$ 1,000 – USD$ 1,400
(The reason we structure the pricing this way is because we often have riders in the group that are continuing westwards towards Europe)