Rajasthan motorcycle tours
Another interesting and historic India motorcycle tour we offer is into the Rajasthan Indian Province, filled with ancient forts as big as cities.
See desert fortresses as big as cities - 11 days - From USD$ 2,895 (all inclusive).
On this India motorcycle tour you get to experience great desert riding as well as unique historic culture. The Rajasthan motorcycle tour might be right for you.
With Royal Enfield & KTM motorcycle's both manufactured in this country, having the right motorcycles available for an India adventure tour is not a problem.
Rajasthan motorcycle tour
See all the ancient palaces and huge forts of Rajasthan on this huge road riding loop in the land of the Maharajas. You won't find a motorcycle tour filled with more ancient history & nostalga than this one.
New motorcycle tours
New motorcycle tours that MotoAsia are now offering are India to Thailand motorcycle tours, motorbike tours from India to Cambodia & India to Laos motorcycle tours.
With Myanmar now open you can transit Asia by motorcycle on a Myanmar motorcycle tour. We have the capability to put the whole adventure tour together from India to South East Asia region very easily. Also if you are looking to transit Myanmar on a motorcycle, we have the capability to arrange the transit for you, or you can join one of our MotoAsia motorcycle tour groups that transit Myanmar.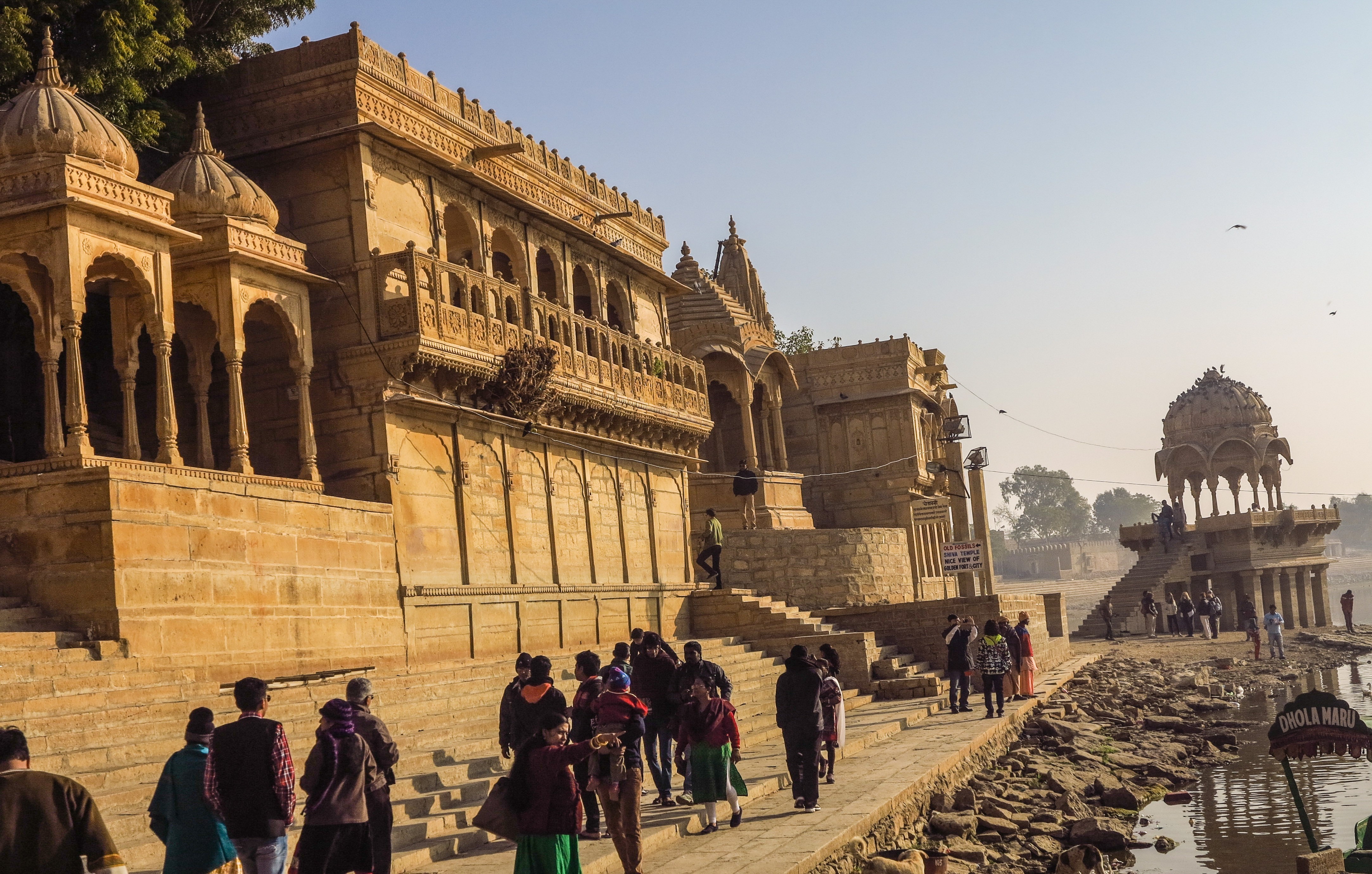 Book Now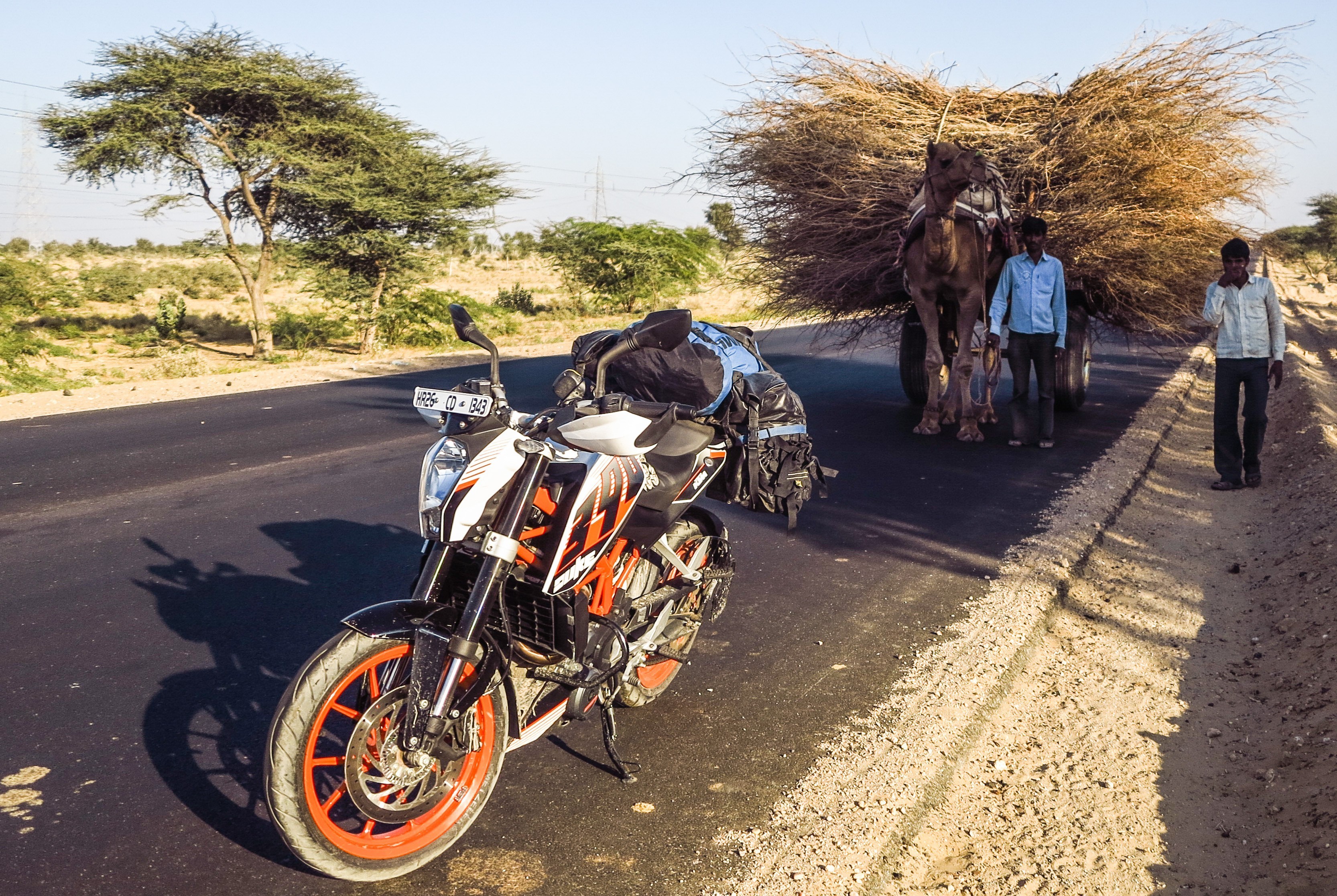 Book Now
Itinerary
We get out of New Delhi's crazy metropolis by minibus and meet up with the motorcycles in Mandawa. We'll have time to test the motorcycles and make sure they're set up correctly for you. The ancient forts and palaces, make this old town the perfect first night's stop to start to adjust to traditional Indian culture. It's actually one of my favorite towns in Rajasthan.

Nice easy first day's riding, entering
Rajasthan's
desert region & getting close to the Pakistan border. Bikaner is another old town dripping with old royal charm & oppulent palaces that have been converted into hotels.
Day 3: Bikaner to Jaisalmer 365km
We're now really in the desert. You'll see sand dunes, camels and nomads along the way. Jaisalmer's fort has to be seen to be believed. The 1000 year old fort named after the Bhati ruler Jaisal, has sand stone walls 2-3 meters thick and is 5km is circumference, its like a mini city. It took 7 years to complete and then there were numerous additions. There's an inner and outer wall that run parallel with a 2-4 meter gap, which was used for the movement of soldiers around the forts walls. Highly recommended!

Day 4: Jaisalmer loop
Today we'll ride westwards towards Kahla & Kanoi amungst the sand dunes and see the nomadic way of life near the Pakistan border. After camel trains and nomad tent camps, we'll Loop back to visit some 1,000 year old temples before we return to Jaisalmer for the night.

We now start to loop back to the south east away from the Pakistan border and ride towards the Mehrangarh Fort of Jodhpur. It was built in the 15th century by Rao Jodha when he shifted his capital from nearby Mandore to Jodhpur, One of the most magnificent forts in Rajasthan.

Day 6: Jodhpur to Ghanerao 180km
Today a 180km ride SSE to Ghanerao, a historic town with many Hindu and Jain temples. Here there are many Royal palaces that have been transformed into hotels, we will stay in one for the night.

In 1829, Colonel James Tod, from the Colonial East India Company commented that Udaipur was 'the most romantic spot on the continent of India', you'll probably agree. We'll ride some amazing twisty roads today through the mountains, one of the best day's riding on the tour. Udaipur was founded in 1568 by Maharana Udai Singh II and is known as "the Venice of the east", a truly magnificent city in the middle of Rajasthan.

Day 8: Udaipur to Pushkar 320km
A full days ride to Pushkar. The town is set on Pushkar Lake, a sacred Hindu site with 52 ghats (stone staircases) where pilgrims bathe. There are hundreds of temples, including 14th-century Jagatpita Brahma Mandir, dedicated to the god of creation, which has a distinctive red spire and walls inlaid with pilgrims' silver coins.

Day 9: Pushkar to Jiapur 150km
Jaipur the capital of Rajasthan state is know as "the pink city" because of the color of its opulent palaces and buildings. It is rich in heritage, culture and architecture, a bustling busy city. The city has brilliant bazaars filled with bright turbans and ethnic attire, hand-dyed and embroidered textiles, pretty jewellery and delicious food. We will ride up to the huge Jiapur Fort and visit the largest 4 wheeled military cannon in the world.

A nice day's ride, we'll ride eastwards towards India's most famous landmark,
The Taj Mahal
. The Mughal emperor commissioned "the tomb" to be built in 1632 by Shah Jahan to house the tomb of his favorite wife of three, Mumtaz Mahal. No matter how many times you visit The Taj Mahal, it's just as special as the first time.
Day 11: Agra to New Delhi
A morning visit to the 11th century Agra Fort, which can only be described as a walled city. We will then leave the motorcycles and take one of our air conditioned mini buses back to New Delhi.

Tour finished
Immigration formalities:
India: Visa needed in advance from Indian consulate