Thailand Motorcycle & Scuba Dive Tour
Thailand Motorcycle & Scuba Dive Tour (combined) - 12 nights from USD$ 2,699
If you're bursting with energy, this this is the Thailand tour for you. A motorcycle tour around north Thailand, then scuba diving on Thailand's best dive spots, all in one holiday.
There's a lot going on here, so here's a brief summary of this 12 day tour:
5 day north Thailand motorcycle tour.
1 day transit to the Island of Koh Tao.
5 day scuba diving on Koh Tao ( 2 dives per day).
Final day, ferry back to the mainland of Thailand.
You've taken the long haul to paradise with your precious free time, you want to get the most out of it, we understand. What we have done is create an experience that offers you the ability to get the maximum out of your time here. 5 days of riding Thailand's border, curvy, mountain roads, combined with 5 days of scuba diving on Thailand'd best dive spots, that's a jam, packed vacation.
Itinerary:
Day 1 After a quick briefing on riding safely in Thailand, we will then get acquainted with the motorcycles, adjusting handlebar controls and rear view mirrors etc., we want the motorcycle to suit you before we depart. The first days ride, on this Thailand motorcycle tour takes us on what some say are the best roads in Thailand towards, the non-touristy city of Nan. We will ride just over 300km with plenty of refreshment stops along the way, on the perfect race-track-like, empty roads. You really can't beat north Thailand for a motorcycle tour. The combination of, riding scenery, great food & culture make it a magical experience. Day 2 The second day of this tour and you'll now be pretty comfortable with the bike. Today we will ride some of the border mountain roads that overlook the neighboring country of Laos. Around 300km of riding and we end up for the night in town Chiang Khong on the Mekong River, where there is a international border crossing into Laos. Relaxing in the evening, you will have picturesque views across the Mekong River into Laos. Riding the border roads on this Thailand motorcycle tour. We finish the day in the beautiful border town, Chiang Khong, which overlooks Huay Xai in Laos. The Mekong River is as tranquil as it gets. Day 3 After leaving Chiang Khong, we will visit the Golden Triangle, where the 3 countries of Myanmar, Laos & Thailand meet. Heading westwards, into the mountains, we will pass through many different ethnic hill tribe regions, made up of Akha, Lisu, Lahu, Hmong, Tai (Dai) Yai & Gin ethnic tribal groups. Beautiful, flowing mountain roads take us to the town of Chiang Dao for the night. The days ride is around 350km. The constant changing scenery around every bend will keep your mind stimulated all day long. Day 4 The infamous Mae Hong Son Loop, today we ride it. North west Thailand's most famous road with 1,864 curves and 10,000 gear changes! Perfect curves and great road surface takes us to the ancient, town of Mae Hong Son for the evening, a truly charming place high in the mountains. Today's ride is around 260km. Mae Hong Son with its fabulous Pagoda's & temples makes for a great evening destination after an exhilarating days ride. Day 5 The last day of riding on this Thailand motorcycle tour, most riders by now have a huge grin on their face & its not over yet. More great roads and perfect twisties take us back to Chiang Mai, the last days ride is around 350km of fun. The last day of this Thailand motorcycle tour and we take you on some fantastic roads back into the city of Chiang Mai. Day 6 A car will pick you up from your hotel in Chiang Mai & take you to Chiang Mai Airport, where a pre-booked flight will whisk you to Surat Thani, it's about a 90 minute flight. A car & driver will be waiting for you at Surat Thani Airport arrival lounge, he will then take you to the ferry terminal, where the ferry will take you to the island of Koh Tao. At the Koh Tao ferry terminal, someone will greet you and take you to your accommodation on Koh Tao Island. There is a day ferry and a night ferry available to Koh Tao Island. Day high speed ferry takes 3 hours, the over-night ferry with cabin takes 6-8 hours, both are fine. After 5 days of the Thailand motorcycle tour we fly you south ready for scuba diving on the island of Koh Tao. Clean beautiful rooms ready getting you adjusted for scuba diving the following day. Days 7 -11, Scuba diving, Koh Tao Island For certified divers, 2 dives a day, every day for 5 days in the crystal clear waters around the island Koh Tao, what could be better? The morning dive boats leaves just after 7am and returns lunchtime. The afternoon dive leaves after an early lunch and returns 5pm ish. It is possible to do 4 dives per day at an additional cost. If you would like to complete a dive certification course while in Koh Tao, we can arrange this at an additional cost. Contact us with the course details you require.(Padi dive certification costs around USD$ 320) The island of Koh Tao is one of the most prestigious dive sites in Thailand, with amazing vizability. Day 12 The last day now and should be thoroughally worn out. We will get you on the ferry to the mainland of Thailand and a car will take you to Surat Thani airport. We can help making arrangements for a connecting flight to get you home. What is included? Airport transfer Pre-tour arrival, we will arrange for you to be picked up from the airport and transferred to the hotel free of charge. The flight from Chiang Mai to Surat Thani & ferry transits are included in the tour price/ package. First night's hotel Your first night's hotel before the tour starts is covered in the tour price. If you want us to arrange hotels for you after the tour finishes it's not a problem.. Motorcycle A suitable, well maintained motorcycle & all fuel is included in your tour package. We tend to use Honda CB 500 F's & Honda CB 500 X's. We can arrange 650cc motorcycles for a small premium. If there is a mechanical issue, we will do everything possible to put things right. For twisty roads, the new Honda CB 500 F is a fantastic cornering motorcycle Food & drink All meals and soft drinks are covered throughout the motorcycle tour. Meals on the dive part of the tour in Koh Tao are not covered. Alcoholic beverages and snacks are not covered. Driving license/ Dive certification A valid, international motorcycle license is required and must be brought with you (not just a copy). Valid dive certification is needed for air diving. Motorcycle insurance Third party motorcycle insurance is provided where ever possible. Travel & accident insurance is not provided, we advise you to arrange this in your own country before you leave. There have recently been some claim issues in Asia with customers using World Nomads travel insurance. We would highly advise you check what insurance you are actually buying to make sure its not just a repatriation flight if you have a "non-life threatening/ non-emergency situation". Preventative medication We have lived here in Asia for a long time & we do NOT take any preventative medication for malaria or hepatitis (nor does anyone we know!). Its a personal choice and up to you, we will not be held responsible for any medical issues that you incur associated with our motorcycle tours. Riding/ diving gear We've found it best that everyone brings their own riding gear (helmet, pants, boots, jacket, gloves and knee protectors). Asia except at high altitude tends to be warm during the day, vented riding gear works very well here. Scuba diving gear is provided in Koh Tao. What is not covered – Laundry costs – Costs/ penalties involved with accidents or speeding fines – Damage to the motorcycle (maintenance issues are covered) – Tips & gratuities – Immigration visa's – Expenses you incur related to changing your itinerary – Alcoholic beverages & snacks What to bring with you (the basics) – Riding gear (helmet, jacket, pants, boots, knee protectors & gloves) – Trousers (1) – Shorts (1 to 2) – Underwear (quick dry) (3) – T shirts (quick dry) (3) – Thermal T shirt (1) – Flip Flops (1) – Training shoes/ sandles (1) – Hat (1) – Sunglasses (1) – Compact rain jacket (also good for a chilly morning) (1) Scuba diving conditions/ restrictions Divers who have been inactive for over a year will be required to take a scuba review for 1500thb extra in the pool before diving (9am). Also divers need to bring proof of certification and ideally a log book with proof of their last dive (although the log book is not essential). We can only check online PADI and NAUI certs. Divers are also required to have proof of insurance treating Hyperbaric injuries resulting from diving. This can be arranged at the dive shop however for 1000thb cover for the week if you don't have any insurance. We do not accept people suffering from Epilepsy, some forms of Asthma or heart disease. Any positive answer on the medical form that does not have a physicians approval to dive backing it up will also result in them not being able to dive.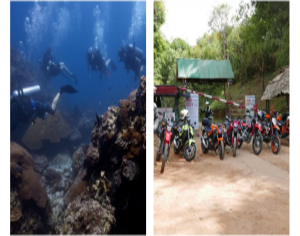 Book Now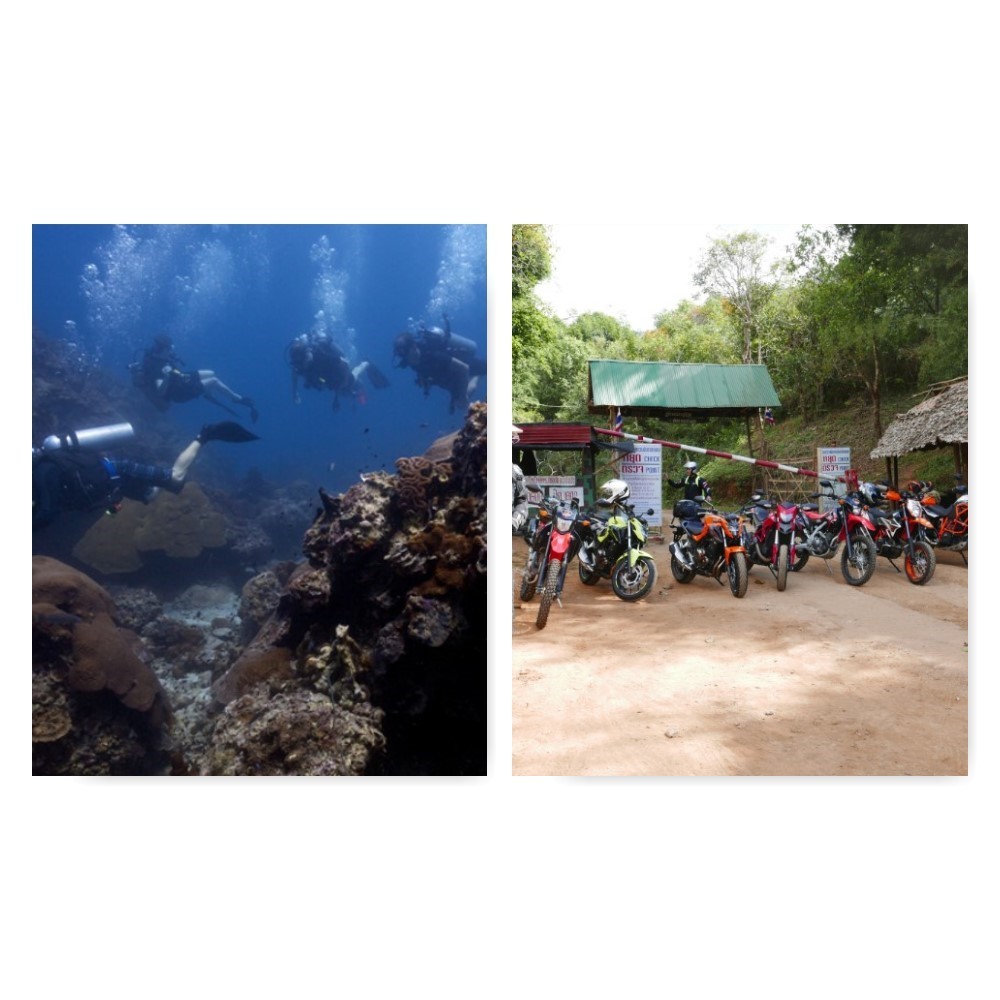 Book Now
Itinerary
Probably the best Thailand motorcycle tour – The Infamous Golden Triangle Thailand Motorcycle Tour